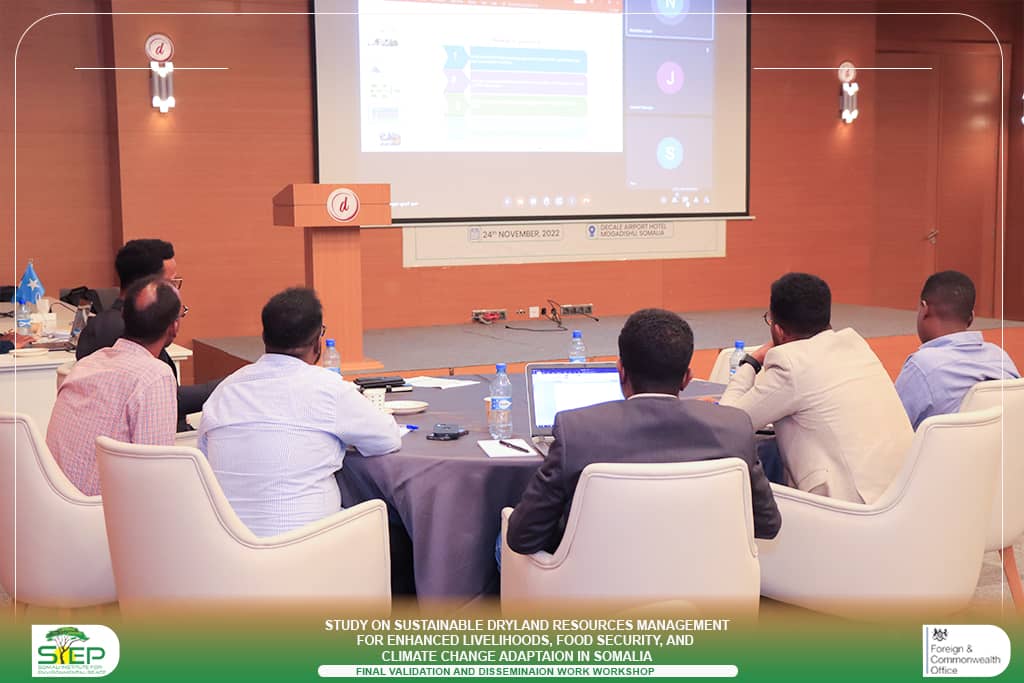 The UK Foreign, Commonwealth & Development Office (FCDO) in collaboration with the directorate of environment and Climate change (Currently upgraded into the Ministry of Environment and Climate change ) has commissioned the Somali Institute for Environmental Peace (SIEP) to carry out a research project on Sustainable Dryland Resources Management for Enhanced Livelihoods, Food Security and Climate Change Adaptation in Somalia investigates the factors causing land degradation and deforestation based on consultations with stakeholders to identify actions to reduce deforestation and increase the resilience of ecosystems and households and sequester carbon.
SIEP institute has organized and held at Decale Hotel Mogadishu a validation workshop to present the study outcomes and the findings, and also to collect other stakeholder opinions on the study so that to be incorporated their input into the final study outcomes.
This was the final validation workshop in which all critical relevant stakeholders were invited to participate in the validation meeting; among the key stakeholder who attended were representatives from the Ministry of Environment and Climate change which is the leading ministry for this study, experts, and a representative from ministries at the federal level, representatives from state ministries of Environment and climate change of Galmudug state, Puntland state, and Jubaland state of Somalia Journalists, Civil society and NGOs, and Academics.
The workshop was a hybrid system where some experts and participants expressed and made presentations virtually. 50 people attended the validation meeting where representatives from target member states provided hotel accommodation and daily allowances. T
The participants have raised excellent comments and contributions towards study report improvement. The research lead expert (SIEP institute) and the official representative of the Ministry of environment and climate change made clarification responses to participants for the purposes of the study and report. Finally, the meeting was successfully concluded and disseminated.